With my wife's new folding bike :)
First time I know about
folding bike
is from one of my airsoft buddy when we were actually talking about GPS devices. That was about one year ago and that time I was so consume with my airsoft hobby that I did not give it too much attention altough it is stick in my mind from that time. Recently my wife talk to me about having bike at home and we agree having bicycle will be fun for us. And then one of her friend introduce her to the folding bike. One talk lead to another and yesterday my wife bought her first folding bike.
Chinese Dahon HT661
with 16inch wheel with blue finish. I took on a test ride and I immediatly like it. The practicallity and a lot of fun possibilities that come with it are very interesting. Lets say that I can bring it with me to the office (even ride it to the office), take it inside the car trunk, go to some places (Kebun Raya Bogor, Ancol, etc) and when we arrive we can use it instead using the car. Or imagine this: I ride it to one of the Jakarta-Bandung travel station, fold it and put it inside the travel car's trunk, go to Bandung. After arriving in Bandung, unfold the bike and ride it around the city. It is a lot of fun isn't it? How about going to Yogya by train or to Bali by plane? It only weighing at 10-12 kg so it is easy to carry around after you fold it.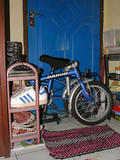 The folded bike in the corner of our room. Looks good with my blue Adidas Superstar :)
But then again this is my wife's bike and it has only 16 inch wheel wich is perfect fit for my wife's size but not for me. My wife said I looke like a circus bear on bicycle when I ride it. So I guess I will buy myself my own folding bike with 20 inch wheel that should fit me well. Look forward for posts about folding bike and bike travel next.
In the mean time here are some link to bike community in Indonesia:
Sepedaku : Indonesian bike community forum. They have dedicated sub forum about folding bike.
ID-Foldingbike : mailing list of folding bike enthusiasts in Indonesia.
B2W Indonesia : Bike to Work community in Indonesia.